MSC 5 Day Course for LGBTIQ+ Intensive Format (in person but non-residential)
What is Mindful Self-Compassion?
Mindful Self-Compassion MSC is an empirically supported program based on the groundbreaking research of Christopher Germer (PhD) and Kristin Neff (PhD).
MSC helps you turn towards yourself with kindness and understanding, become your own best friend and ally, and learn to build a warm-hearted response to your daily experience, especially during difficult times. The course will include practical components such as meditations, exercises, dancing and group discussions that help you cultivate your inner resource of compassion.
This adaptation of the Mindful Self.Compassion program addresses the needs of the LGBTIQ+ community as it offers an environment of belonging. We as members of the community (no allies, please) learn about and practice self-compassion together and begin to engage in the two energies of self-compassion, that is, tender and fierce, and apply them to our lives as LGBTIQ+ folks.
At the completion of this course, participants will begin to:
Describe the theory and research supporting mindful self-compassion, in particular as they apply to LGBTIQ+
Develop and use self-compassion practices to alleviate minority stress
Discern and manage difficult situations and emotions, in particular shame, with greater moment-to-moment acceptance and kindness
Engage in topics of intimacy and consent
Develop awareness around and the capacity to befriend anger and the pain of rejection in the context of our LGBTIQ+ lives
Transform difficult relationships, old and new, through self-validation and self-worth
Utilize the art of savoring and self-appreciation to overcome negative attention bias
Develop a deeper sense of what it means to be in community
All participants will be provided with a copy of The Mindful Self-Compassion Workbook (by Kristin Neff and Chris Germer) and mp3 audio files with guided meditations from the teachers.
Course Venue:
Die Nieuwe Yogaschool. The New Yoga School, Laurierstraat 109, Amsterdam, NL. Website: https://denieuweyogaschool.nl/
Why choose the intensive format?
In this MSC intensive course, the content of the MSC adaptation for LGBTQ+ is taught over five consecutive days. The intensive training format is an alternative to the longer online MSC adaptation. The intensive allows participants to immerse themselves fully in MSC and deepen both their understanding and practice of MSC while enlivening their experience of what it means to be in community with like-minded folks from the LGBTIQ+ community. This offering is in person but non-residential.
Your Teachers: Wiebke Pausch and Markus Bohlmann
Wiebke Pausch (she/her)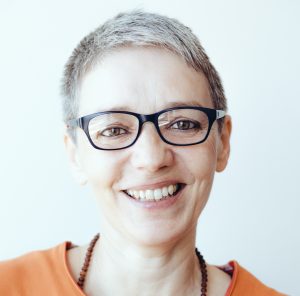 has practiced meditation for over two decades, mainly in the Buddhist tradition and is  guiding retreats internationally. Grounded in the practice of mindfulness and self-compassion, she integrates meditation, body-centered inquiry, Art-Therapy and nature-based explorations for  strengthening inner resources for healing transformation.
Wiebke has been teaching the Mindful Self-Compassion Program  internationally since 2016 and is part of the team of MSC teachers of CMSC's LGBTQIAP2S+  Affinity Group. She has been co-creating the adaptation of the MSC Program for the LGBTQ+ community and co-facilitated the first MSC courses to a queer audience. She teaches in English, German and in French.
She lived in spiritual/feminist lesbian communities in Switzerland and France in the 90s. Today she is living in Berlin with her daughter.
Wiebke says: "Practicing MSC encourages and allows me over and over again to be just as human as I am, in any given moment. It is my heartfelt wish to create a space for our LGBTIQ+ community with this course, where intimacy and connection can develop."
Markus Bohlmann, PhD, (he/him)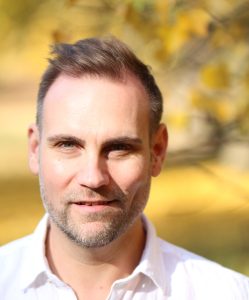 has a passion for nurturing connection and belonging within the LGBTIQ+ community. As a gay man, Markus has found MSC life-changing in his experiences of isolation within and without the LGBTIQ+ community, self-abandonment and self-criticism. As he participated in his first mindful self-compassion course, Markus felt the freedom of not being judged for who he was nor for who he loved.
Markus has since then become a certified MSC teacher, translations coordinator and regional coordinator for MSC in Europe at the Center for Mindful Self-Compassion (CMSC), a member of their DEIB and J Committee (Diversity, Equity, Inclusion, Belonging and Justice), and team leader of their LGBTQIAP2S+ Affinity Group of Circles of Practice, a public meditation offering. Most recently, Markus has been co-creating the adaptation of the MSC Program for the LGBTQ+ community and facilitating workshops on "Mindfulness and Gay Men" in Europe. Markus has lived in North America and in Europe. He teaches in English and in German.
Markus says, "I have found MSC deeply transformational in my life as a gay man. It has given me practical tools that have changed my life. If I can do it, so can you!"